Message from the Chairman
Home: About Us - Message from the Chairman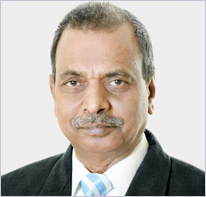 I take immense pleasure in introducing to you our Company Him Urja Private Limited, an independent power developer credited with the distinction of setting up the first small hydro-power plant in the Himalayan region in 2002.

Him Urja is strongly guided by its vision of becoming one of India's leading power and infrastructure companies, delivering best in-class infrastructure using innovative technology resulting in sustainable development.

In pursuant of the avowed goals, Him Urja has constantly upgraded its managerial and technical competency to be able to take up highly challenging power and infrastructure projects in the most difficult terrains.

As the flagship company of the diversified Group, Him Urja has the requisite financial and technological resources to take up greater projects with longer gestation period. These strengths are clearly seen in all the projects that we have developed so far.

With every successful venture, Him Urja has dared to scale new peaks, influenced by the effervescence of a highly-driven management and team. I am pleased to state that the Company's business goals have not blurred the management's commitment to contribute to country's efforts of bridging power and infrastructure gaps.

All our projects have spurred remarkable local area development as well as initiatives to protect the environment. We take great pride in these achievements.

For Him Urja, the past two decades since its inception in 1995 has been an exhilarating experience of attaining new heights in the field of infrastructure. In the initial phase, our focus of attention was on real estate development. I would like to state in particular our key role in developing Kant Enclave, a 425 acres township' along the Delhi-Haryana border' which now commands a total saleable value of INR 3,000 crore. The successful execution of this project was an early and definitive endorsement of our all-round engineering capabilities.

Thereafter, we forayed into the power sector, with Him Urja developing run-of-the-river small hydropower projects in the Chamoli district of Uttarakhand, at Rajwakti (4.4 MW) and Vanala (15 MW) on river Nandakini, a tributary of river Alaknanda. Two more projects are underway at Dewali (13 MW) and Melkhet (24 MW) in the same district.

As an independent power developer, Him Urja has expertise to develop both hydel and thermal power plants. We have set ourselves the target of achieving total operational power generation capacity of 500 MW by 2022.

As a Group, we have keen focus on our real estate development activities too and plans are afoot to promote and develop residential and commercial areas in different parts of the country. Besides, we have plans to establish an integrated steel plant for which the planning is underway.

Him Urja has steadfastedly met and surpassed the expectations set by its management and stakeholders. A great future beckons the Company in its pursuit of geometric growth and engineering excellence.

I invite you to join us in this grand endeavour.