Overview
Home: About Us - Overview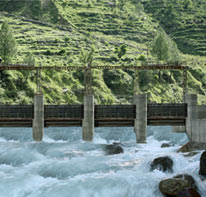 Him Urja Private Limited is a leading company in power sector having the distinction of setting up of the first small hydropower plant in the Himalayan region in 2002. It is a flagship company of diversified MG Group which has notable accomplishment of developing one of the first integrated world class townships on the border of Delhi in the National Capital Region.

The company has already commissioned two run-of-the-river small hydropower projects in the Chamoli district of Uttarakhand, at Rajwakti (4.4 MW) and Vanala (15 MW) on the river Nandakini, a tributary of the river Alaknanda. Two more projects are underway at Dewali (13 MW) and Melkhet (24 MW) in the same district.

A prime mover in the small hydropower segment, Him Urja has set sights on achieving total operational power generation capacity of 100 MW by 2019. This would go up to 500 MW by 2022 once the Company forays into development of large hydropower and thermal power projects. Him Urja has at its command the requisite managerial, financial and technological resources to execute power and infrastructure projects of all sizes.

As a pioneer in setting up the small hydro power plant in the tough and difficult hilly Himalayan terrain, Him Urja has experience and developed capabilities to set up and successfully run hydro power plants in the high mountain areas. This is demonstrated by the fact that the Company could complete the construction of both its commissioned projects well within the set time frame of 24 months and has efficiently managed the operations and maintenance of the plant for over the last thirteen years.

The Company credits this achievement to its dynamic and committed team that comprises of highly accomplished civil, mechanical and electrical engineers and management professionals.