Rajwakti Hydro Power Project (4.4MW)
Home: Projects - Hydro Power Project - Rajwakti Hydro Power Project (4.4MW)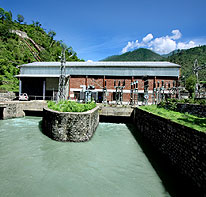 Him Urja set up its first SHP at Rajwakti near Nandprayag in the Chamoli District of Uttarakhand. This run-of-river project is located on the river Nandakini, a tributary of the river Alaknanda. The construction of this project was started in January 2000 and completed in April 2002

Built at a cost of $5 million, the project entailed the construction of:
Bridges and roads to facilitate excavation and transportation of materials to the site.
RCC Diversion weir: with gated undersluice and Intake and ungated Overflow section
Water Conductor System consist of 1.2 km RCC Box 2.1x3.0 mtr and penstock 2.2 mtr dia, 1.2 km long.
Surface Power House with turbine setting 7m below ground level.
Salient Features
Installed Capacity
4.4 MW
Design Discharge
10.5 m3/sec
Net Head
52 metres
Annual Energy Generation
26 million units