Real Estate Sector
Home: Sectors - Real Estate Sector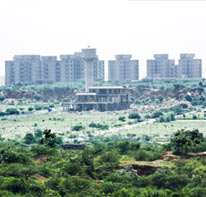 The residential sector in India has undergone a far-reaching metamorphosis in the last decade. After years of unplanned and haphazard development, the sector is now marked by enhanced product offering, heightened investment including foreign capital, and augmentation of the national footprint of some prominent Indian developers. Modern apartments and villa and township projects have come up across the country and new city master plans have been drawn to include a number of suburban and peripheral locations within the cityís folds. The residential segment leads the growth trajectory-nearly 75-80% of the total real estate space development across India is in the residential segment. Rapid urbanization, increase in number of households, rising income levels, and easy availability of housing finance are among the main reasons cited for this trend.

There exists a huge demand for housing and infrastructure in the Indian scene. With According to the report of the Technical Group on estimation of housing shortage constituted in the context of formulation of the Eleventh Five-Year Plan, housing shortage in urban area is estimated to be around 24.71 million. The gap between demand and supply for urban housing is growing. This is has due to the high population growth, especially in urban areas. Studies reveal that the population in the five most populous cities of India, namely Mumbai, Kolkata, New Delhi, Chennai & Hyderabad is set to increase at a scorching pace of more than 100% between 2010 and 2025. The huge demand-supply gap for residential housing, favorable demographics, rising affordability levels, availability of financing options as well as fiscal benefits available on availing of home loan are the key drivers which will continue to fuel the growth in the residential market.

Apart from the huge demand, India also scores on the construction front. A Mckinsey report reveals that the average profit from construction in India is 18% which is double the profitability for a construction project undertaken in the US. The importance of the Real Estate sector, as an engine of the nationís growth, can be gauged from the fact that it is the second largest employer next only to agriculture and its size is close to US $ 12 billion and grows at about 30% per annum. Five per cent of the countryís GDP is contributed by the housing sector. In the next three, four or five years this contribution to the GDP is expected to rise to 6%.